Jazz Puzzles, Volume 2,
by Dan Vernhettes with Bo Lindström
Foreword by Greg Lambousy
Published by Jazz'Edit in a limited edition
248 pages, English text, 302 illustrations!
Format: 26 cm x 28,5 cm, offset quadri

Presentation and research of the same quality as "Traveling Blues."

Available at a cost of 40 euros per copy (+ mailing 10 euros) on www.jazzedit.org or directly at jazzedit@sfr.fr
SPECIAL OFFER for one copy of Jazz Puzzles 2 + one copy of Jazz Puzzles 1 or one copy of Traveling Blues: 90 euros instead of 100.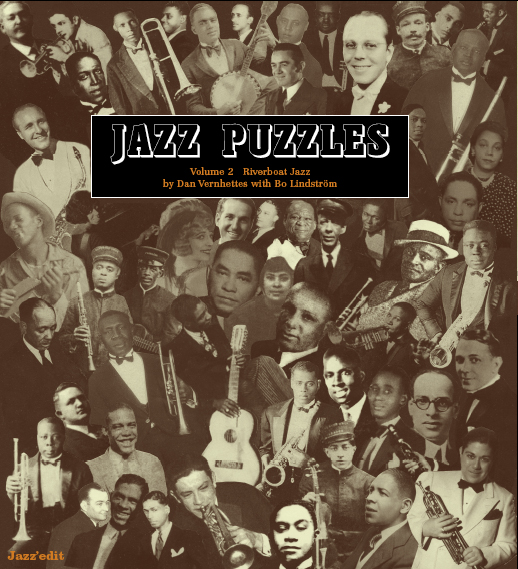 Jazz Puzzles, Volume 2, is the sequel to Jazz Puzzles, Volume 1 the ground-breaking study by DAN VERNHETTES with BO LINDSTRÖM. This new publication studies the varying aspects of riverboat jazz history. Between 1907 and the 1940s there was a continuous collaboration between New Orleans musicians and those from St. Louis, as well as other northern towns, who worked on the riverboats, especially, but not exclusively with the Streckfus lines on the Mississippi and Ohio Rivers. Some musicians worked for many years on the steamers, staying entire seasons in St. Louis or New Orleans, eventually moving one place or the other to settle down and raise families. Others played only occasionally on the boats in New Orleans. Jazz Puzzles, Volume 2, adds new pieces to the overall jazz puzzle, exploring the importance of the waterways linking these riverside towns and their travelling jazz musicians by presenting the lives of eleven of these artists (the most complete studies on these subjects):

1. FATE MARABLE, the key player in riverboat jazz history, had always intended to write his life's story, but did not. The authors have searched newspapers, libraries and studied the interviews housed at the Hogan Jazz Archives to present his story. They have also added photos as well as descriptions of the various vessels on which he and others played during the heyday of riverboat jazz.

2. LOUIS ARMSTRONG's life has been explored many times, however, they have uncovered new facts about his ancestry, have developed a family tree which, in some cases, goes back to Africa, in order to present both sides in detail. They have also explored the multicultural background from which he came, the influences of his Italian and Jewish and musicians friends and extended family who had an impact on his early life and music.

3. DAVY JONES was an underrated and little-known musician who played with Clarence Williams, Willie Hightower, Zue Robertson and King Oliver. He taught so many musicians, including Louis Armstrong, but his story, until now, has been largely neglected. He was one of the musicians who imposed saxophone in jazz music.

4. CHARLIE CREATH, the St. Louis cornet king, was considered the equal of many New Orleans musicians. They have told his colorful story, giving a lot of details about his bands, his musicians, as well as his sister Marge, a talented performer and the wife of Zutty Singleton,a s well as his friend Jelly Roll Morton.

5. DEWEY JACKSON was another largely ignored member of the St. Louis music scene. They have explored, not only his work in St. Louis but his collaboration with both Creath and Marable on the Streckfus steamers.

6. SIDNEY DESVIGNES worked both on the river and in New Orleans. He was also a regular on the Island Queen, as well as the Streckfus boats.

7. ARMAND PIRON's whole story, from his beginnings, his collaoboration with Clarence Willilams, to his ten-year stay at Tranchina's in New Orleans, his trips to new York, his sojourns on the Streckfus boats, is explored here for the first time. They have included, as a sideline, the story of the Tranchinas, a New Orleans family of Sicilian origin, whose restaurants housed many a struggling jazz musician during the 1910s and 1920s.

8. PAPA CELESTIN and his band played on different steamers in and around New Orleans. They have shown how he, as well as… …

9. SAM MORGAN contributed in shaping the classic New Orleans style, and how both had a major influence on all the musicians who visited New Orleans during the 1920s.

10. EMMETT HARDY's short life has only, so far, been studied by Dr. Karl Koenig. Lindström and Vernhettes have researched his childhood, his family ancestry, the milieu in which he grew up on the West Bank in Algiers, and his brief stint on tour. They have examined his music as well as his connections with both New Orleans musicians as well as the legendary Bix Beiderbecke.

11. PETER BOCAGE, another Algiers musician, was also a key figure in the emergence of jazz. He collaborated with Louis Armstrong, Fate Marable, Papa Celestin, Armand Piron, etc., over the course of his long career. Dan Vernhettes' and Bo Lindstrom's new volume contains many beautiful photographs, some never published before, others scanned from the originals, as well as illustrations and maps to bring to life the times, the triumphs and struggles, of these jazz greats. Each chapter, with the exception of Hardy's, who never recorded, has a Discography and Comments page. An Index closes the book.

Even though Jazz Puzzles, Volume 2, is longer (248 pages!), the price will probably be the same as for Traveling Blues and Jazz Puzzles, Volume 1. We still have copies available of "Traveling Blues" and "Jazz Puzzles" Volume 1, and only 25 copies of "Big Boy". Superb gifts for Christmas!!!